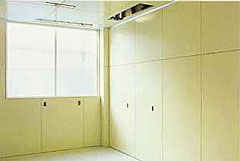 Substrate for decorated board and furring board
TOMBO™ No. 6452-L/-H
NP LUX
NP LUX L can be used for interior walls (ceilings and walls) of various buildings such as plants, residential homes, apartment buildings, and hospitals, the ceilings and walls in sink areas such as kitchens, kitchenettes, and toilets, and the ceilings and walls of parking lots.
NP LUX H is a non-flammable material with excellent strength and surface hardness. It can be used for various other applications such as a base board for interior decorated boards, a base board for porcelain tiles, or a base board for waterproof roof sheets.
Product Category
Building Materials(For Residential Housing/Non-Residential)
Calcium silicate board
Industry
Residential Housing & Non-Residential
Building (Non-Residential) Construction
Warehouses
Application
Base material for decorative panels
Base material of waterproof sheets for roofs
Product specifications and physical property values
Product name
Thickness mm
Width × length (mm)
Tolerance (mm)
Bulk density
g/cm3
Bending strength
<Vertical>
N/mm2
Length
Rate of change
<Vertical> (%)
Thickness
Width, length
NP LUX L
Flat board
6
910×2420 (3'×8')
910×2730 (3'×9')
±0.4
+0
-2
0.70 or more
Less than 0.90
10.0 or more
0.15 or less
8
10
910×2420 (3'×8')
±0.5
12
NP LUX H
Flat board
6
910×1820 (3'×6')
910×2420 (3'×8')
±0.4
0.90 or more
Less than 1.10
13.0 or more
*NP LUX L/H is a non-flammable material that corresponds to the fiber-reinforced cement board of Notice 1400.
*Please contact us if you are interested in dimensions other than those above.
Other
TOMBO is a registered trademark or trademark of NICHIAS Corporation.
Name of products with "®" are registered trademarks of NICHIAS Corporation.
Name of products with "™" are trademarks of NICHIAS Corporation.