Research & Development
The research and development activities of the NICHIAS Group are undertaken under a framework consisting of the two research laboratories of the Tsurumi Research Laboratory ((Yokohama City, Kanagawa Prefecture) and Hamamatsu Research Laboratory (Hamamatsu City, Shizuoka Prefecture) and the technical centers of each division.

In implementing research and development, the technical centers of each division are responsible for developing products and construction methods in close alignment with NICHIAS' customers, and the Research & Development Division is responsible for carrying out fundamental research and developing future technologies. At the same time, the Business Division and Research & Development Division work together in a flexible manner to tackle development issues, and in the case of manufacturing issues, strive to liaise smoothly with the Engineering Division, plants, and manufacturing subsidiaries.The Research & Development Division of NICHIAS Corporation has a research and development department that facilitates fundamental research and the development of future technologies, a department specializing in heat measuring, refractory technologies, and CAE, and a department specializing in chemical analysis. The Research & Development Division supports the research and development of NICHIAS' "Insulation and Protection" technologies.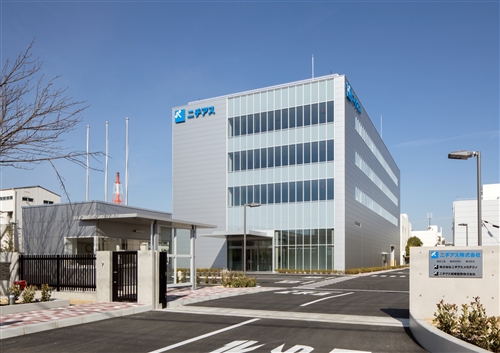 Tsurumi Research Laboratory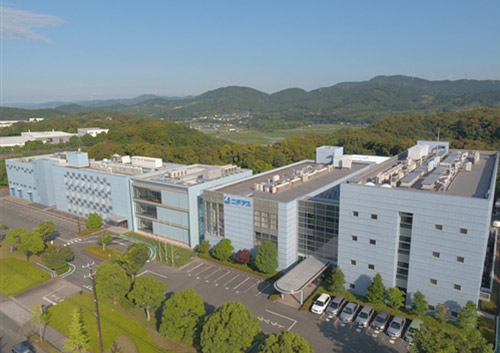 Hamamatsu Research Laboratory
Main Initiatives
The research and development that supports the five businesses of NICHIAS Corporation are undertaken in a well-balanced fashion by dividing efforts into two categories: those for markets undergoing rapid growth and change, and those for products that are a must for industry.

In terms of semiconductor equipment, which is an advanced industry sector, technological innovation is required for greater machining precision and cleanliness, and thus research and development are needed in this field. In the autoparts space, for which the demands to address environmental problems such as global warming have increased significantly, NICHIAS is actively engaged in efforts to meet demands for products that support internal‐combustion engines as well as to develop new products for electric vehicles.For plant products and building material products, NICHIAS is undertaking efforts to improve products and give technical support to ensure its customers can use its products safely and with peace of mind.

NICHIAS also values enhancing its foundation of "Insulation and Protection" technologies. An example of NICHIAS' research and development is the registering of a proprietary technology (a method for measuring thermal diffusivity by way of a periodic heating method) to measure high-temperature thermal properties with the international standard organization ISO (International Organization for Standardization). Until now, there was not an official standard for the precise measuring of the high-temperature thermal properties of lightweight, fibrous thermal insulation materials, but NICHIAS' periodic heating method was recognized internationally as being deemed worthy of being used for an official standard. NICHIAS will continue its work to meet expectations as a pioneer in insulation technologies.
Future Challenges and Outlook
In accordance with the transformation to industry capable of sustainable growth, the transformation to a carbon-neutral society, and technological transformations led by developments in IT, expectations of NICHIAS' technologies will also change significantly. Even in an era of these major transformations, NICHIAS will continue to develop new products focused on its six "Insulation and Protection" technologies.

To address carbon neutrality, NICHIAS implements initiatives from two perspectives. The first is advancing its "Insulation and Protection" products that help to save energy and engaging in research and development that enables NICHIAS to contribute to its customers and a carbon-neutral society. The other perspective is developing new manufacturing methods and products to make NICHIAS' manufacturing carbon-neutral. Outlining its concept of products designed to be eco-friendly, NICHIAS is accelerating its research and development efforts.

To enhance its technological development capabilities and "Insulation and Protection" technologies, NICHIAS believes it is important to train its staff and use state-of-the-art technologies.

In particular, the training of upcoming engineers is a key challenge, and thus NICHIAS educates its staff on its "Insulation and Protection" technologies and ways to solve issues. In group training of upcoming engineers throughout the Group, in order to learn ways to solve problems, NICHIAS holds training where staff members engage in team challenges slightly different to those they face in their day-to-day work as well as professional and fun training programs in which staff can compete against each other in teams. The independence and problem-solving capabilities of its upcoming engineers are expected to become weapons at the disposal of the NICHIAS Group.

Going forward, together with carbon neutrality efforts and the training of personnel, NICHIAS will also engage in bold efforts to use construction technologies in research and development and make its research and development methods more sophisticated.