A high-strength panel made of GRC (Glass fiber Reinforced Cement) reinforced with a steel plate
While concrete on its own has a characteristic of being easily cracked, by combining GRC with specially processed steel plates, a sturdy, high-strength concrete panel is made. This allows for stable walking equivalent to that of floor slabs.
Superior walking comfort without rattling sounds.
A two-tiered protrusion rubber gasket is adopted to reduce creaking and hollow sounds, and absorb the rattling sounds which was a drawback of the raised access floor system. A characteristic of this is that walking becomes natural and gentle, which reduces the burden on the feet of office workers.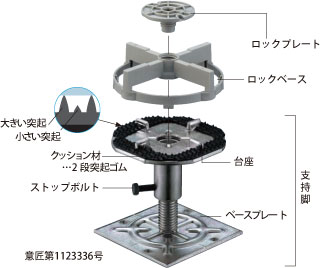 A raised access floor system which boasts excellent cost performance.
Offers various superior properties at low cost. Contributing to office environment creation with economic efficiency in mind.