NICHIAS OMEGA FLOOR: A product that boasts an impressive track record of users
Since its launch in 1990, the NICHIAS OMEGA FLOOR has gone on to be the choice for many when it comes to raised floors. As a raised-access floor system with excellent ease of installation and value for money, it is proudly used in a whole host of environments including large redevelopment buildings.
A high-strength panel reinforced with steel rods and laths
A sturdy, high-strength concrete panel is made by reinforcing concrete, which on its own is susceptible to cracking, with an exclusive steel rod structure and laths. This allows for stable walking equivalent to that of floor slabs.
Superior walking comfort without rattling sounds.
The panel lock system adopts a two-tiered protrusion rubber gasket to reduce creaking and hollow sounds and absorbs the rattling sounds that were a drawback of the raised access floor system. A characteristic of this is that walking becomes natural and gentle, which reduces the burden on the feet of office workers.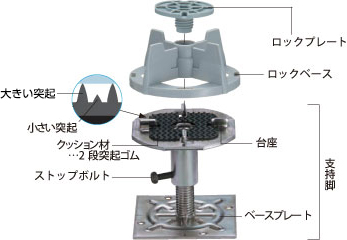 A raised access floor system which boasts excellent cost performance.
Offers various superior properties at low cost. Contributing to office environment creation with economic efficiency in mind.