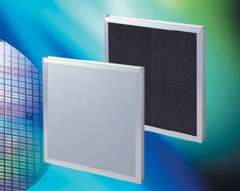 Chemical filter
TOMBO™ No. 8803-HC/-HA/-HT
CHEMICAL GUARD
It is a filter that removes low-concentration gas (ammonia and acidic and organic gases), making it suitable for the likes of clean rooms and semiconductor manufacturing equipment. By applying Nichias' exclusive honeycomb manufacturing technologies and having a large amount of adsorbent/functional material inside the wall, it can remove ultra-low-concentration (a few μg/m3) gas components with high efficiency.
Product Category
Filter-Related Products
Filter Products
Industry
Electronics
Semiconductors & Flat Panel Displays (FPD)
Electronic Components
Various Plant Facilities
Clean rooms
Forte
Its high removal rate is achieved by the high contact area of the ultra-fine honeycomb structure, and its long lifespan is achieved by selecting an adsorbent with a large adsorption capacity.
Type
TOMBO No.8803-HC
Chemical filter for removing basic gases
Ammonia, trimethylamine, etc.
TOMBO No.8803-HA
Chemical filter for removing acid gases
SOx, NOx, Cl, etc.
TOMBO No.8803-HT
Chemical filter for removing organic gases
Organic matter with a high boiling point such as DOP, DEP, and siloxane
Other
TOMBO is a registered trademark or trademark of NICHIAS Corporation.
Name of products with "®" are registered trademarks of NICHIAS Corporation.
Name of products with "™" are trademarks of NICHIAS Corporation.