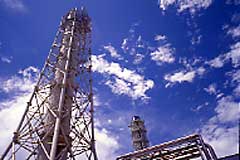 Stack lining maintenance work
Stack lining maintenance work
In a broad range of fields that include the likes of waste incinerators, petrochemical plants, and industrial furnaces, Nichias uses its vast experience and advanced technologies that it has developed over the years to carry out efficient stack lining work in material development, design, installation, and maintenance that meet the needs of its customers.
Product Category
Construction Work (Lagging, Cold Storage, Fire-Proofing and Sound-Proofing)
Fireproof Installation
Industry
Chemistry & Petrochemistry
Oil Refining & Petrochemistry
Energy (Electricity, Gas, Heat Supplies)
Thermal Power Stations (Coal)
Thermal Power Stations (LNG)
Forte
Electric power and petrochemical smokestacks are lined to protect the smokestack from high-temperature, corrosive gases. Nichias undertakes lining work for smokestacks at the time of construction and also suggests maintenance work based on a survey and diagnosis of the degradation of the existing smokestack lining material. Nichias carries out the work with a construction approach that takes into account quality, safety, and the environment all the way through the process from removing the existing lining by way of the wet cutter method, installing a gondola construction platform, and spraying on the lining. Features of Nichias' patented lining removal method are that no dust is generated, it generates little noise, and can be done quickly.
Other
TOMBO is a registered trademark or trademark of NICHIAS Corporation.
Name of products with "®" are registered trademarks of NICHIAS Corporation.
Name of products with "™" are trademarks of NICHIAS Corporation.