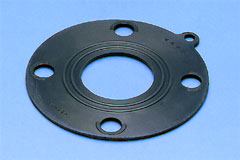 Rubber molded gasket (solid rubber product)
TOMBO™ No. 9013-EP/DEP
EBILON™ GASKET
A gasket made by pressure molding a single piece of rubber into a cross-section shape that offers an even lower surface pressure and stable sealing performance than a rubber seat gasket. Nichias recommends using this product for parts with mild usage conditions and that do not require much chemical resistance.
Product Category
Elastomer Products
PTFE Covered Elastomer / General Purpose Elastomer
Industry
Chemistry & Petrochemistry
Oil Refining & Petrochemistry
Chemistry
Various Plant Facilities
Piping
Usage scope
Working temperature range: -40 to 150 °C
Maximum working pressure: 1.0 MPa
Flange shape: flat face
Type
There are the following two types with different rubber materials:
TOMBO No.9013-EP: EPDM
TOMBO No.9013-DEP: A special EPDM for electrolysis tanks
Standard dimensions
Plastic flange (JIS10K equivalent): 15 A to 300 A
JPI Class 150: 1/2 to 12B
Other
TOMBO is a registered trademark or trademark of NICHIAS Corporation.
Name of products with "®" are registered trademarks of NICHIAS Corporation.
Name of products with "™" are trademarks of NICHIAS Corporation.
Download Catalogs