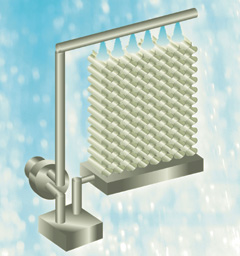 Pure water dripping humidification and chemical removal equipment
TOMBO™ No. 8805-HW
HONEYCOMB WASHER™
Nichias' HONEYCOMB WASHER is a system that removes water-soluble gases (NO2-, NO3-, NH4+, SO42-) present in the open air or within a clean room. It is an ideal system that can humidify and remove chemicals. In comparison to conventional water spray types, it offers high performance, low pressure loss, space-saving, and power-saving.
Product Category
Filter-Related Products
Filter Products
Environmental Equipment
Industry
The Environment
VOC Purification, Humidification & Dehumidification
Forte
Humidifying + high chemical removal performance
Low pressure loss
Energy-saving
Space-saving
Application
Outdoor-air processing unit for semiconductors and liquid crystal
Removal method
A system in which pure water drops from the top of the oblique honeycomb formed using porous ceramic with good water-absorption properties to form a water membrane on the surface of the honeycomb, and as a result of contact with the air that is introduced, water-soluble chemical substances contained in the air are removed together with humidification.
Other
TOMBO is a registered trademark or trademark of NICHIAS Corporation.
Name of products with "®" are registered trademarks of NICHIAS Corporation.
Name of products with "™" are trademarks of NICHIAS Corporation.
Download Catalogs