Activities to Contribute to Society & Local Communities
The NICHIAS Group has many production and sales bases all over the world.Each business establishment strives for harmony between its employees and the local community and engages in various initiatives to prosper together.
Support through Donations and Assistance
As one of its CSR activities, NICHIAS gives various types of donations and assistance from such viewpoints as disaster relief support and academic research support.In fiscal 2021, it contributed a total of approximately 8.14 million yen in donations and assistance.
Assisting Academic Research
NICHIAS contributes to Japanese research and development institutions to help them in their research and development.Institutions that receive such help span a wide range of fields, including such cutting-edge technologies as semiconductors, organic synthesis, ceramics, and analysis and evaluation technologies.NICHIAS also extends its support to overseas universities. The Group will continue to support various fields and institutions that have a bright future.
Planting of Mangroves by NICHIAS (Thailand) Co., Ltd.
As part of its environmental conservation efforts, NICHIAS (Thailand) Co., Ltd. plants mangroves in regions where the number of trees is dwindling due to areas being used for artificial salt pans.Twelve employees volunteered to plant seeds for a total of 50 mangrove trees.They also collected garbage that had been left in the surrounding area.NICHIAS (Thailand) Co., Ltd. will continue its efforts to help the local region and increase the environmental awareness of its employees.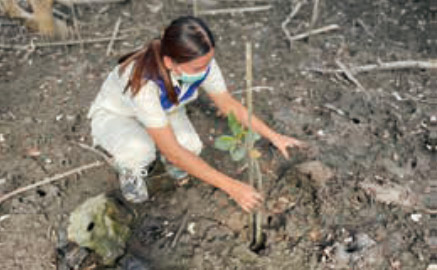 Planting Mangroves
NICHIAS Participates in Street Cleaning Day Every Month
Street Cleaning Day is a cleaning initiative carried out in central Tokyo to expand the circle of voluntary cleaning efforts such as at homes and offices to make the streets of Tokyo cleaner and more pleasant.NICHIAS Corporation also supports this initiative and its employees clean the area around the head office building every month.
NICHIAS Provides Supplies to Foodbank
NICHIAS Corporation supports foodbanks by delivering food that is to be thrown away despite being edible (food loss) to welfare facilities free of charge.NICHIAS has regularly donated food materials since 2018, and in fiscal 2021, it donated approximately 6,000 cooked packaged rice meals and 3,000 liters of mineral water.
SUZHOU NICHIAS SEAL MATERIAL CO., LTD. (China) Visits and Donates to Local Families
Shanghai Xingsheng Gasket Co., Ltd. supports calls by the government and local businesses to visit and donate to local families on Children's Day in China.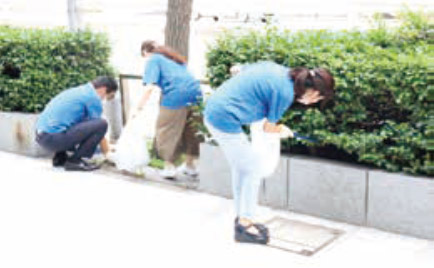 Visiting Families in the Local Area
NICHIAS Provides Humanitarian Assistance in Ukraine
NICHIAS Corporation has donated 1 million yen through the Japanese Red Cross Society for humanitarian support to those significantly affected in Ukraine and those who have fled to nearby regions.